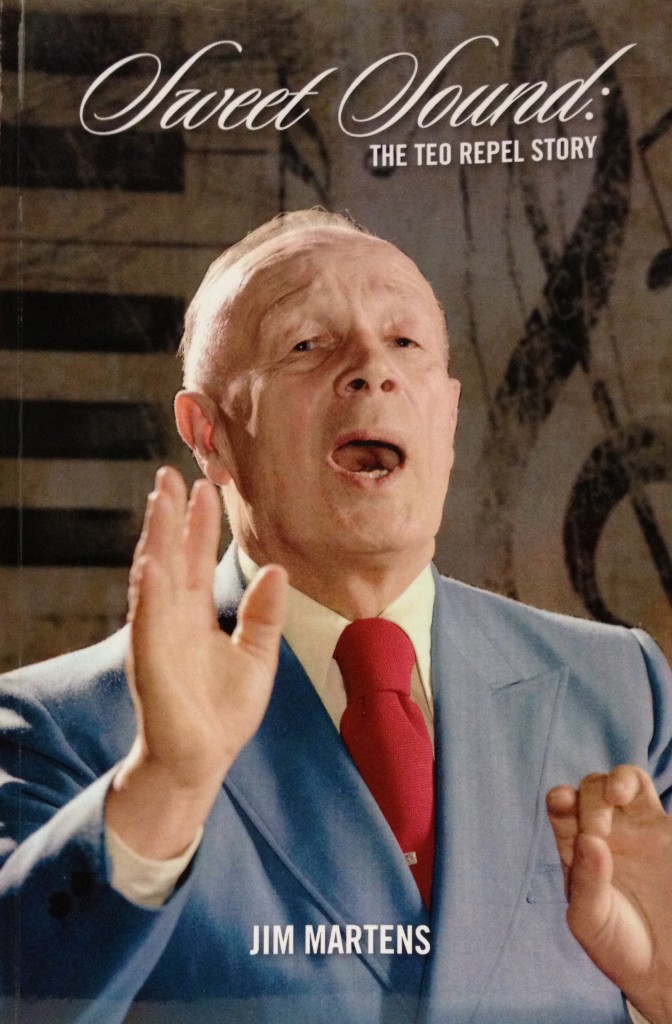 What readers have been saying . . .
Sweet Sound is a tribute and literary requiem for an exceptional man who lived an ordinary life of profound consequence. The story of Teo Repel's life speaks powerfully for itself without pretentious flourish or imposed meaning about one man's passion for choral music, and for teaching choral music, that infected a generation of young people and continues to reverberate through their lives. I found it meaningful, moving, humbling and a great pleasure to read.

Bruce Beairsto – Former Superintendent of Schools (Richmond)
Your book is a remarkable tribute to a very special man. Thank you for continuing to spread the gift of music through this celebration of Teo's life and legacy.

Carrie Whetstone Spencer
After reading Teo's lifestory, I was gripped by all of life's struggles and joys Teo encountered along the path to freedom in Canada, a country where he could eventually live out his life doing what he loved best, teaching and conducting music! The book gave me a much-needed and better appreciation for a life well-lived! Your time and effort were well-spent in putting together Teo's lifestory onto paper. Thanks again!

Charlotte Wiens
 – Former student of Teo Repel and Alumni Choir pianist
SWEET SOUND: The Teo Repel Story
The story of Teo Repel's early Polish upbringing, survival during the Second World War, immigration to Canada and ultimately, to become one of Canada's top High School Music teachers.
ISBN 978-09699667-3-9
Trade copy 6″ x 9″
337 pages
Perfect Bound
$17.50 US
Use PULL DOWN MENU below to select appropriate book. Then use Add to Cart button to order Sweet Sound: The Teo Repel Story

Excerpt:
"This is a love story. Perhaps not your conventional love story, although there are aspects of passion sprinkled throughout. It is the story of Teo Repel, best known to many as "my high school choir director." But he was much more than that. He was a soldier, a farmer, and once studied for the priesthood. He encountered challenges that would make many of us give up. But Teo never did. 
This love story epitomizes one man's love of freedom, and the roads he travelled to get it; his love of music, and the multitude of performances he directed to fulfill it; and the deep, enduring love of one man and one woman for each other. Though they came from radically different cultures, the union they created spanned more than six decades and is woven throughout this musical love story. 
Over ninety years in the making, this story spans continents and breaks through challenges at every turn. Teo survived the Second World War but, perhaps more problematic, were the eighteen years he was required to study to get a Canadian university degree when they wouldn't recognize the one he had already achieved in Poland! His fortitude is legendary. 
And if music is a universal language, Teo's life story gives hope to mankind that it is captured uniquely within our heart's desires. Ironically, and to the great benefit of thousands of his John Oliver High School students, it is best experienced when it is released and not held within. He shared his passion with us and I hope to share our thankfulness for his gift of song—the sweet sound we carry both in our hearts and on our lips."
Author's comment:
"While I felt great compulsion to write this book as a tribute to a wonderful teacher, I discovered, in my research, even more–a wonderful husband, father, grandfather and friend. I discovered I did not know the man as well as I thought I did. His stature grew, in my eyes, each time I made a new discovery.
 Finally, I am hopeful that Teo's story will challenge other music and arts' teachers to clearly see how much they touch the future through hundreds of students they impact in profound and life-changing ways. That Teo could lead this venture, even posthumously, would serve in some small way to keep his love of music, and the arts, alive in each subsequent generation. That I, like so many other students before and after me, got to experience Teo's passion in my formative adolescent years, imprinted on me a love of the arts that keeps growing as I age.
 I believe it is more important than ever to state that an education that doesn't embrace the arts is an incomplete education, one that creates citizens that are less than they could be. A well-rounded arts' education is as important as any aspect of a child's growth, and ultimately their fulfillment as an adult. This book is praise to a teacher who knew its value and instilled in many young souls a lifelong appreciation, and active participation, in music and the arts, as a way of life and a way of being. 
 Teo, we thank you. May your music live on in us, and through us." Jim Martens
Use PULL DOWN MENU below to select appropriate book. Then use Add to Cart button to order Sweet Sound: The Teo Repel Story
HOW TO CONTACT
email: books@redmaplepress.ca
mail: Box 18043, Delta, BC, V4L 2M4
I Was A Teenage Mennonite and Homespun are currently SOLD OUT. New copies will be available for purchase online in Fall 2016.